Our visit to the Valley of the Kings would begin early in the morning, 5:00 a.m., so that we could return to the hotel early in the afternoon. No, it's not because we wouldn't have like to stay all day in the Valley of the Kings, we probably would have given the chance, but the temperatures were in the mid-120 degree range in the afternoon Sun. Certainly not the kind of heat you can tolerate to long.
Leaving Luxor we took the bus over to the Nile, crossed the Nile on a ferry and continued toward the Valley of the Kings. The first ancient ruin we encountered was that of the Colossi of Memnon, two giant statues situated on the plain between Thebes and the Valley of the Kings. They are all that remain of a monumental avenue which led to the temple of Amon-Ofis III. These two statues are 60 feet high, with their feet measuring 6 feet long and 3 feet thick. Each was carved from a single piece of sandstone to represent Pharaoh sitting on his throne with his hands on his knees.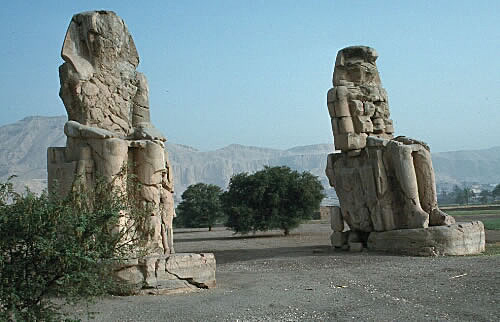 The Colossi of Memnon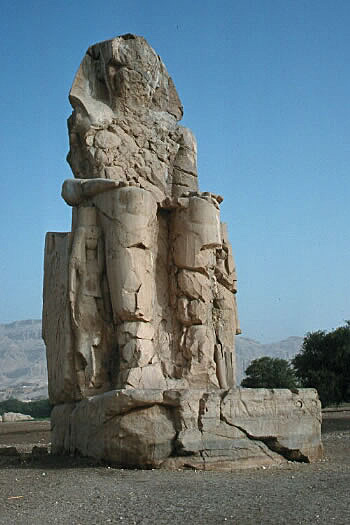 A single Colossi of Memnon
The Colossi of Memnon are known for emitting sounds and a number of legends offer reasons for this. But modern day science has found that the sounds are due to vibrations of the broken surface caused by the rapid changes in temperature as the Sun rises.
When the bus parked on the side of the road we all jumped off to take a closer look and photograph the statues. Not long after we appeared this little boy carrying a black sheep emerged from behind the statue. As you can imagine in a country with so much poverty begging is prominent everywhere, and this was that little boy's way of earning some extra spending money for him and his family. At least he wasn't just standing out on a street corner somewhere begging for spare change. He offered something in return for the few Egyptian pounds he might make during the day. I think we all obliged and gave him something for his effort.