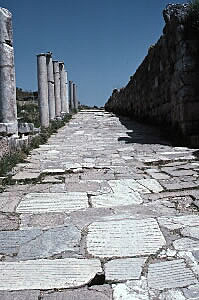 Mile-long marble walkway
Having decided to forego getting off the ship at Patmos Anne and I looked forward to our last trip ashore at Kusadasi, Turkey, the port city for Ephesus. This would be our first foray into Turkey, and I have to admit I wasn't all excited about that. Let's talk about perspectives for a minute.
Before I left on this trip I had read and seen much on TV about Egypt. My expectations were, admittedly, very high and I was shocked to find the country so backward. I guess the best way to put it is when I thought about Egypt before our trip, I wondered when thinking about the 6-day war, "How could a country lose a war in six days?" Having visited Egypt my perspective changed to, "What took Israel so long!" What I found in Egypt, the poverty, the graft, the substandard living conditions and much more, I expected to find in Turkey, but I was pleasantly surprised. We only visited this one tiny part of Turkey (and I can't speak for the whole country) and it was very clean and pleasant. We certainly didn't see the poverty that we saw every where in Egypt. Enough said, let's talk about Ephesus.
Ephesus was founded in the 3rd century B.C. and became an important Ionian city and later the seat of the Roman governor in Asia Minor. It is also known for its association with St. Paul who founded a church there. The ruins today are magnificent and give one a good feeling for life in ancient times. Of note is the mile-long marble road built in the 5th century AD, Hadrian's Temple, a 24,000 seat theater and public toilets. Enjoy these pictures taken of the ruins at Ephesus.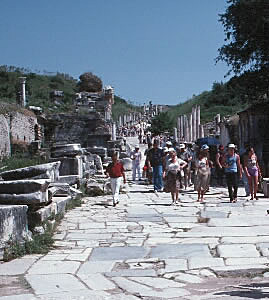 Colonnaded marble road at Ephesus
Maybe the Gate of Hercules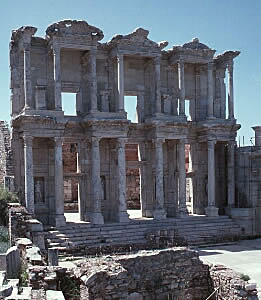 Facade of the Library of Celsus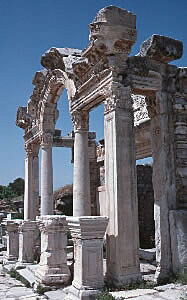 Facade of Hadrian's Temple