In the Spring of 1974 peasants and workers of the Yen Tsa commune in Lin-t'ung county discovered an underground army of terra-cotta soldiers and horses believed to have been buried for over 2,200 years. Ch'in Shih Huang Ti, the first emperor and builder of China's Great Wall, was buried in 210 B.C. under an earth mound 15 stories high called Mount Li. While the site was known in had not yet been excavated when well diggers accidentally stumbled upon a large subterranean vault, part of the grave complex. This vault contained over 6,000 life-size pottery men and horses, an army of warriors, servants, and horses pulling manned war chariots. Amazingly life-like, the terra-cotta army was for the most part intact and standing poised for the command to attack.

The detail embodied in each of the statues added a life-like appearance to them. The horses forelocks were curled and their tails knotted. They pulled wooden chariots with leather harnesses and brass fittings. The soldiers carried real bronze swords, spears and crossbows. In some cases their hair was braided. The detail of these terra-cotta soldiers, buried for 2,200 years, was astonishing.

Anne, having followed the discovery of the terra-cotta army through the pages of National Geographic, was ecstatic that Tang Dynasty City had a collection of over 2,000 of the terra-cotta figures on display. Visiting Tang Dynasty City then became a "must" for us.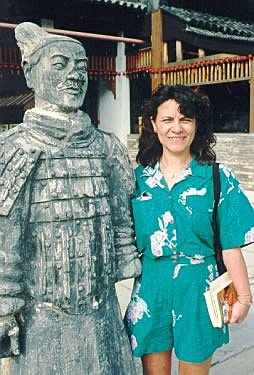 Anne standing next to one of
the life-size terra-cotta soldiers