The Grand Palace

The Grand Palace occupies an area of over 218,000 sq. meters adjacent to the Chao Phraya River in Bangkok. Rama I on ascending the throne moved the palace from its location in Dhonburi on the other side of the river to its present site. The walls were built in 1783 and after erecting public monuments, like the fortifications and monasteries, the palace was built. Within the walls the Chapel Royal of the Emerald Buddha, the palace offices and the royal residence were placed.

Today's visitors are treated to a magnificent display of history and artifacts of the legendary Siam. Buildings adorned with ornate carvings and mystical figures are the norm as are statues of these mystical figures and shrines honoring numerous different things are common. You can spend hours and hours walking the grounds of the Grand Palace and still not have your fill of its beauty.

Enjoy the pictures taken at the Grand Palace.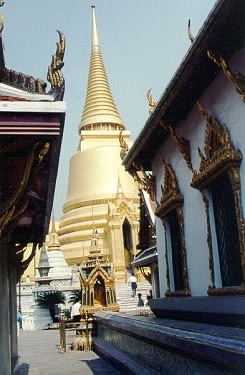 Phra Sri Rantana Chedi
The Reliquary, shaped like a golden
cedi, is part of the upper terrace.